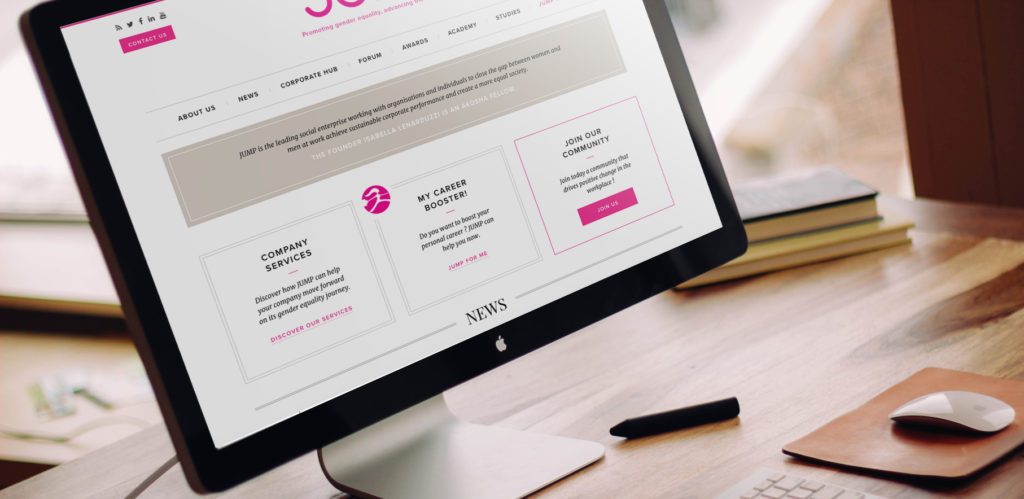 Welcome to our new JUMP website!
Welcome to our new JUMP website!
We're proud to share with you our revamped JUMP website, which reflects our new strategy to better serve our social mission: working with organisations and individuals to close the gap between women and men at work, achieve sustainable corporate performance and create a more equal society.
JUMP is our website for organisations. You'll find all our services for promoting gender equality at work and helping you in your path towards gender equality: Forum, Academy, Corporate Hub, Surveys and Studies. Take a look at our News section for the latest corporate best practices on gender at work. Discover our new Ressources, with presentations, videos and useful readings on topics such as the Gender Pay Gap, the Business Case for Gender Equality or Engaging Men.
JUMP for Me is our website for all professional women, with inspiring tips and best practices to empower women and advance your careers. Join our unique community across Europe, sign up to the Newsletter for the latest tips, and achieve the career you love!
A great thank you to Accenture and Ashoka for their pro-bono support, thanks to whom we built our new strategy.
---