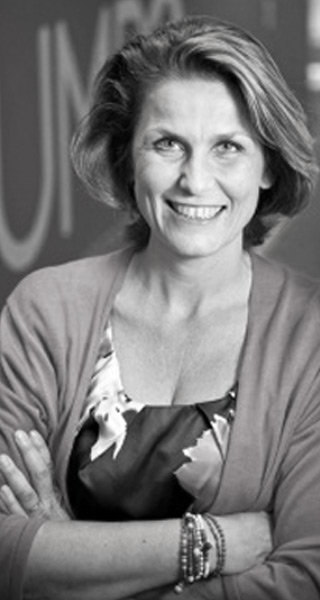 Founder
Isabella Lenarduzzi has been a social entrepreneur, an expert in communication, event and conference organisation for 30 years. Her areas of interest include women empowerment, equality, education, training, entrepreneurship, innovation and EU advocacy.
Isabella launched JUMP "Promoting gender equality, advancing the economy" in 2006. She currently manages 3 companies, one NGO and a team of 12 people with
an office in Brussels and in Paris.
Wimadame award (France) called "Femme entrepreneure européenne"

"Tof de la comm" Award for event communication

"Femme d'Exception" (Woman of exception) by the Belgian Minister for Equal Opportunities Joëlle Milquet

Women Inspiring Europe by the European Institute for Equality

Ashoka Fellow

"Les 10 femmes de conviction qui font du bien" by La Libre Belgique (daily newspaper)

"Woman of the year" by Lobby Awards

Board member of Impulse, "The Brussels governmental organisation for entrepreneurship"
Annick de Vanssay

MANAGING PARTNER JUMP INTERNATIONAL

---

Annick has been guiding complex corporate transformation projects for 20 years. Senior Executive HR in several international groups, she has
developed strategic experience in organizational HR definition as well as gender diversity. In 2007 she founded Transeetive, a consulting firm specialized in HR innovation strategy. Today, Annick is also Managing partner of JUMP in Paris.



Christine Cecil

STRATEGY & BUSINESS DEVELOPMENT MANAGER

---

Christine is a marketing executive with an international background, INSEAD MBA and over 15 years experience in operational/strategic marketing and project management in a variety of sectors (consumer goods, e-commerce, management consulting). She joined JUMP in 2015, motivated by her strong values and drive to lead change and empower women in business.



Stéphanie Tinel

---

Stéphanie has a bachelor degree in Public Relations. After finishing her studies, she traveled to many places and worked in London for 7 months. Interested by the cause of women, she joined the JUMP team in September 2014. Throughout her early career, Stéphanie has developed skills in administration, event organisation, communication,…

Paulette Bombled

---

Administrative and accounting assistant with extensive experience in the areas of construction, real estate development, ministerial cabinets, IT services and consulting, European Commission. Pensioner of the European Commission, Paulette joined the JUMP team in June 2011.

Myriam Amarray

---

Myriam Amarray is project manager at JUMP in Paris since beginning 2015. She has two years of experience in project management, communication and event coordination. At JUMP, she coordinates the JUMP Forums in Paris and Lyon, and contributes to the elaboration of targeted gender diversity programmes in large companies. Myriam is a graduate from the Institute of Political Sciences of Lyon.

Carole Bosseart

PROJECT LEADER WOMAN'S ACADEMY

---

Carole Bossaert is the Project Leader of the Woman's Academy at JUMP. She has worked 25 years for Management Centre Europe, an American company providing high quality training and consistent management development solutions across Europe and globally. She is now working as an independant, managing/coordinating complex, large-scale projects.

Camille Février

---

Camille Février has been at JUMP since January 2016, and since September has been hired as European Project manager. In her last six months as intern in the JUMP Paris office, she has contributed to the organization of two JUMP Forums: one in Lyon and another in Paris.


Gary Leleu

---

Since March 2016, Gary Leleu work for JUMP as Communication Manager and WebMaster/designer. He is in charge of design, development and maintenance of JUMP Websites (HTML/CSS, PHP, SQL, MYSQL Wordpress, ...), communication and promotional materials.