JUMP is the leading social enterprise working with organisations and individuals to close the gap between women and men at work, achieve sustainable corporate performance and create a more equal society.
THE FOUNDER ISABELLA LENARDUZZI IS AN ASHOKA FELLOW.
SOLUTIONS FOR ORGANISATIONS

Discover how JUMP can help your company move forward on its gender equality journey.

DISCOVER OUR SOLUTIONS

Join our community

Join today a community that drives positive change in the workplace !

Join us
The events for advancing gender equality at work
March 21, 2017
From good intentions to great performance:
Putting gender equality at the heart of change
Programme & Registration
Academy
Workshops to boost gender equality at work
Here is a selection of our most popular workshops:
Gender dialogue

Gender Diversity Toolkit

Everything you need to know in order to implement an effective gender equality action plan

Women empowerment

Self-confidence and assertive communication

Self-confidence is the most attractive quality a person can have. How can anyone see how great you are if you can't see it yourself?

Men awareness

How to become a better women's ally at work

Gender balance is a huge and global business opportunity. Is your company tapping into it?
Corporate Hub
The corporate gender equality network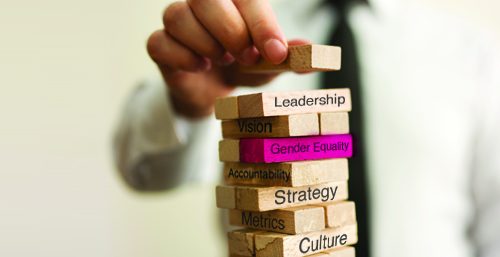 Upcoming hub
Lyon - Hosted by Orange
Comment assurer le succès de votre politique d'égalité professionnelle ?
More on this session
Resources
The knowledge center for gender equality at work

Latest report
My experience of sexism
This survey explores the perceptions and experiences surrounding sexism.
View Latest report
Award
The corporate ambassador for gender equality


Sign up for the
The seventh Wo.Men@Work Award ceremony will be held on March 21 in the framework of the JUMP Forum in Brussels, organised in Vlerick Business School Brussels.
Keynote speakers: Bill Proudman on "Trump, Masculinity and What It Means for the Gender Equity Work Ahead"  and Eleanor Tabi Haller Jordan on "Defying the Diversity & Inclusion Stalemate: The Emerging Third Alternative"
Register for the Award ceremony (€60/person VAT ex.)
or register for both the JUMP Forum & the Award ceremony
Programme & Registration
Vote for the corporate ambassador for gender equality
Votes are open until March 3
The Wo.Men@Work Award rewards the executive manager who works hardest to achieve gender equality at work.
VOTE NOW
Why is it important that men support JUMP?